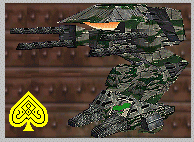 Hello there. This site is one of the few Titanium Netmech sites on the web. Here you can find out how to play Titanium Netmech, run Kahn, meet up with other players, and download Titanium Netmech or Titanium Mercnet. This site is also an offical site of -=TDC=-(Titanium Death Circle). We play 16bit 3dfx Titanium Editions only. There are tons of DOS NETMECH sites out on the net, so there will be no support for any other versions of Netmech here.
Titaniun Netmech Players can be found on the default servers provided by Activision and Kahn. Most of the Titanium Netmech/Mercnet Players meet on Kahn first before going to the gamming servers. To battle us you will Need: KAHN, MIRC, NETMECH or MERCNET, and IPX drivers loaded on your computer. Note that MIRC is only needed to replace Kahns Chat Client. We Do not run IPX emulation unless we are running an IPX session. MERCNET user be sure to meet on Kahn first before going to MERCNET or you may be alone in the dark. Goto #titanium on Kahn and you should find a good hand full of players. If you Goto #titanium on Kahn, and the only user there is Athena (NOTE: Athena is Not a Real User, She is a channel Bot) Type !seen and a User Name. She will tell you when that user was last on, and their quit message. Remember to use Kahn, you must have your IPX Drivers loaded on your computer. If you Do not have them loaded or your not sure if you do. Click on "START" then "Settings" then "Control Panel" Goto "Network" then Click "protocals" select "Mircosoft" from the left and select "IPX" from the right. Click "ok". The OS may prompt you for you Windows CD, so make sure you have that handy, and reboot. Your all finished. If your still alittle lost and you need someone to literally Talk you through all of this. E-mail me and goto my News page. There is a Live Chat Interfase embeded into the HTML. Questions or Comments Contact Brokenmachine [FMC] at Brokenmachine_Inc@hotmail.com


Where Do We Play?


---

Australia.activision.com This Server Seems to be the first server active when you launch Netmech on Internet Play. This Server has the Most Lag! 780ms


us1.alink.activision.com This is the Best 16 bit Titanium Server To Use. Some People have problems Bringing up this Server on Their List. Low Lag and Pretty Stable, This is a great Gamming Server. Best one to Use on Titanim 16 bit Mercnet.
NOTE: The us.alink.activision servers are up and running, though there are a few bugs it appears.


Kahn is a network driver that allows people to play games on the Internet that are normally limited to local networks. Kahn sets up a virtual IPX network that emulates local networks and allows nearly any IPX-compatible game to be played over it. Each player connects to a Kahn server, and can then chat and play with the other people on the server. FREE, NO AD BANNERS. Some of the Regulars and Myself Play on Kahn a Good Percentage of the time also. To Find Us, goto #Titanium.
---